Nelleke Schiphorst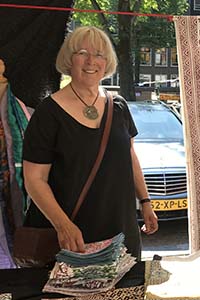 TAKE A LOOK AT MY WEB STALL: www.nellekeschiphorst.com/dewebkraam. The Noordermarkt is cancelled due to the Corona crisis. So I realized a plan that I had for a long time: to open a web stall. You can find here my beautiful scarves and other articles. Send me a mail if you have questions about an article: nellekeschiphorst@planet.nl. If you want to order something, you can use the contact form on the website.
Take care of each other and yourself! I hope we can meet again soon at the Noordermarkt on Saturday. Lots of strength everyone and stay healthy!
It all started at the Winter Fair of estate the Mariënwaerdt in 2014, where I had rented a booth for 3 days. I brought some jewelry of artist Nynke van Amersfoort with me. The profit of those days was not spectacular, but the consequences though! I discovered how much fun I had working on such a 'market' and to meet various people. You can find me every week on the Noordermarkt on Saturday.

In Winter, I sell:
• Scarfs, mob caps and ponchos of wool, cashmere, viscose;
• Shawls from Nepal of wool and silk in beautiful vibrant colors;
• Shawls from the brand Otracosa;
• Necklaces of silk, made by Ans Brinkhuis
• ROSE OF JERICHO (information see below).

From April, I sell
• Viscose vests in many bright colors from Bali;
• Scarfs of the brand Otracosa in wool, linen and cotton;
• Silk, hand-painted scarfs by Ans Brinkhuis;
• Necklaces of silk by Ans Brinkhuis. 

New:
ROSE of JERICHO, also known as 'Desert Rose'or 'Resurrection plant'. From desert areas in the Middle East (Egypt, Syria, Israel) and North America (Texas, Mexico). The plant is a symbol of new and eternal life, and is traditionally given as a gift by birth, New Year, a new house, etc. The plant looks like a dead ball of twigs, but when sprayed with warm water the plant opens within 24 hours. The bulbs are opening themselves every time, when they are sprinkled with water.